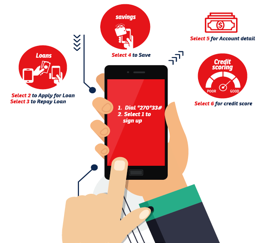 QUEST BANKER supports a full integration with mobile money, which ensures seamless communication and data capture between the core system and the mobile money service providers.
Mobile Banking enables all your members to use their mobile phones to deposit, withdraw, apply for loans, and check balances from any location using any mobile phone.
Some of these functions include:
Real-time updates of the Mobile money GLs
Instant disbursements to customer's mobile money accounts.
Enables customers to post repayments and deposits straight to their accounts which are updated immediately.
Enable customers to transfer funds from one account to another.
Enable customers to make payments for utilities services from their accounts.